Line up the lawn chairs and crack open some brewskies, boys! That seemed to be the way Portland's idiot "chief of police" viewed things just before he ended up shooting one of his "huntin' buddies" in the back last month out in Harney County, Oregon. Yeah boy! They was a-shooting these "sage rats":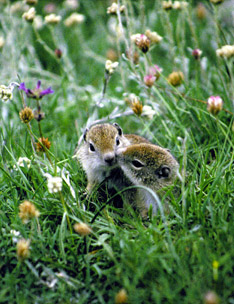 On account of those Belding's ground squirrels are such nasty and sneaky critters.
They'll hide out there in the grass or the sage and just wait until you clamber out of your lawn chair to go fetch another brewski. Then they'll make their move, although some of them don't even wait that long. They just might up and decide to shoot one of yer "huntin' buddies" in the back. And that's where our esteemed chief of police blew it (fortunately, the Harney County deputy investigating the incident didn't have a breathalyzer handy).
Personally, I think he should have blamed one of those "sage rats" for the carnage.
They're dangerous killers.  While you're resting in your lawn chair the squirrels can sneak up and pull the trigger on your gun.  That's why they must be taken out.
Yee-Haw!
No wonder Portland cops are so highly respected; with that as "leadership", what else can be expected? Man, what fine folks we end up with around here. Well, at least now ol' Larry should be able to find time to attend the Oregon Brewer's Festival. If he brings a lawn chair, ya might want to leave.