That's what Obama said during his comments regarding the Charleston murders. So let's see what's happened today, shall we?
Sousse, Tunisia: at least 37 people at a five-star resort in this tourist town are dead after a pair of piece-loving Islamists - one of whom cleverly concealed his automatic rifle in an umbrella - paid a visit to the place. Another 36 are wounded. Most are tourists from the U.K. and central Europe. Another hotel nearby was reportedly under attack as well.
Lyon, France: an Air Products plant is evacuated after a man's head is found on a post on the factory grounds. Two other people were injured when a car was rammed into the plant and set off multiple explosions.
Within hours a man was arrested who officials said had been investigated over possible ties to radical Islam.
Elsewhere in France today, Uber continues to defiantly operate illegally in the country, sparking massive and violent reaction from taxi drivers: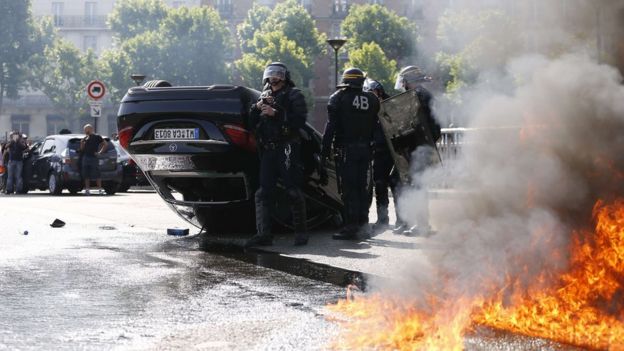 Uber officials have insisted they will continue their activities until France's highest court rules on the service - an attitude Mr Cazeneuve called "cynical and arrogant".
That's how they roll.
But it's good to know, as our president has assured us, that these kinds of things only happen in America.