About that Jewish cemetery near St. Louis that was desecrated the other day:
In just over 24 hours, an online fundraiser encouraging Muslims to donate to repair vandalism at a Jewish cemetery has raised over $100,000.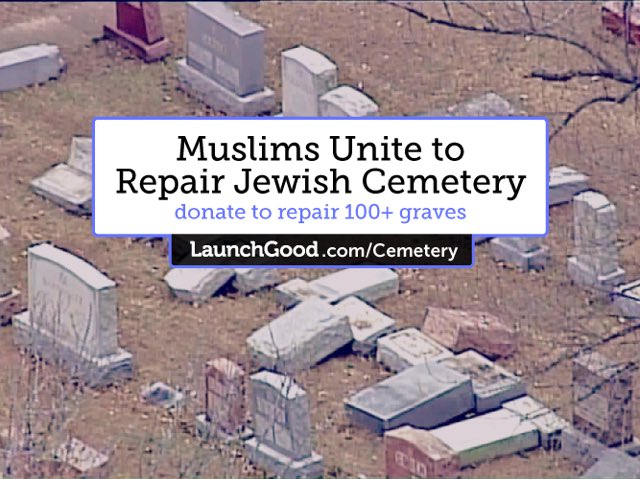 El-Messidi, whose Philadelphia-based organization Celebrate Mercy creates interactive webcasts and videos that teach about the Prophet Muhammad, told NBC News that about two-thirds of those donating appear to be Muslim, while the remainder are largely Jewish. "One of the silver linings of all this divisiveness and hate rhetoric has been the two communities coming together," said El-Messidi. "Historically, we did not work together. People are putting their politics aside and working to fight bigotry together."
By any measure, that's a heck of a lot of donations in a remarkably short time-frame.
Sarsour and El-Messidi's fundraiser will remain open for donations until March 21st.
The fundraiser isn't just bringing in dollars. El-Messidi told NBC News that over 100 messages have been received through the webpage — many from American Jews moved by the Muslim community's support.
"We are tired of being grouped along with the crazies, they scare us just as much as any American," El-Messidi said. "We need the administration to talk about the 3 million Muslim Americans who just want to pursue life, liberty, and happiness just like everyone else here in America."
And it looks as though they're actually stepping up for a good cause, which is an excellent thing to see.