Criminals broke into the rhino barn at France's Thoiry Zoo on Monday night, executed the zoo's 4 year-old white rhino with three shots to the head, and sawed off one of his horns. This appears to be the first time such a thing has occurred in a zoo. By all appearances, they attempted to saw off the secondary horn as well, but were unsuccessful. The victimized rhino is pictured below, center.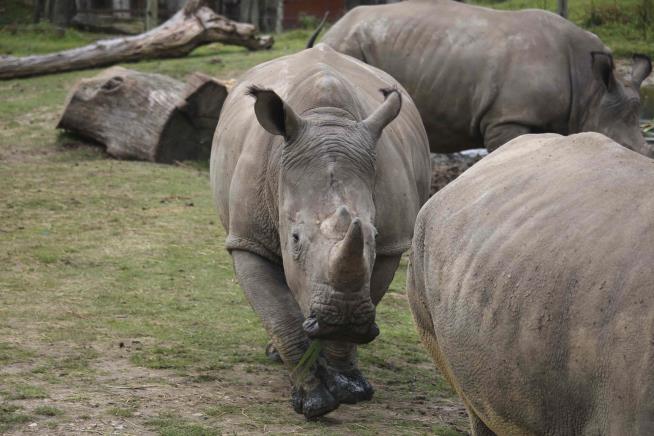 "The whole staff is extremely shocked," the zoo wrote in a Tuesday morning Facebook post, which adds that the other two rhinos in the enclosure, 37-year-old Gracie and 5-year-old Bruno, "escaped the massacre."
A rhino horn can bring as much as $219,000 on the black market. Chinese are the usual buyers, as they persist in believing that ground-up rhino horn has an effect like Viagra.  As is the case in many European zoos, a number of staff reside onsite - at this zoo, five staff are resident - but neither that nor the presence of security cameras dissuaded the criminals.
Rhino horn is composed of the same material as your fingernails, toenails, and hair - keratin. The Chinese could obtain identical "medicinal value" by chewing their nails, but they're too dumb to recognize and understand that. And so the slaughter continues.