Well, some people are evidently simply begging to be taken out. Like 32 year-old Dick Bull over in Britain, who a few months ago was taking a bath while using his iPhone as it was charging.
Bull, who had used an extension cord from the hallway of his London home to bring the phone into the bath while it charged, suffered burns so severe that when his wife found his body, she thought he had been attacked and called police.
Millennials. Always gotta be connected.
Then there's this:
A tip from the NYPD: "Don't put your cellphone under a pillow when sleeping or when charging your device"—unless you want to set your head on fire.
Good grief. Somebody needs to buy these people a clue - although granted, it's too late for the Brit. Cell phone + water = Bad. Cell phone + insulation = Bad. Who knew you'd have to mention this stuff?
Cell phones need to be kept on a hard surface because the lithium-ion battery generates heat, both when charging and during use. Ditto for tablets and laptops. Placing them on a hard surface assists in heat dissipation, so you don't end up with something like this in the wee hours: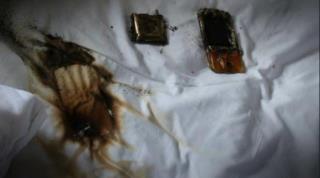 Can't sleep; head's on fire. Don't touch me, I'm a real live wire. Psycho killer....