Much like over-fishing, it seems that we're over-sanding. All of the concrete, glass, and asphalt in our structures contains sand, and it's got to come from somewhere.
Sand mining is causing environmental damage worldwide. In some places locals dig out riverbanks with shovels and haul it away with pickup trucks or donkeys; in others multinational companies dredge it up with machinery. Everywhere, the process impacts its surroundings in ways that range from cosmetic to catastrophic.
North of Monterey, California lies the only beach in the country that's still being mined for construction sand - because Mexico-based Cemex found a way to keep operating after all of the others were shut down. Apparently all of the others were in-water operations, while this one sits above the high-tide mark. It's a legal loophole.
Of course, in-water dredging does more than just muddy the water:
Mining sand from the floodplains near rivers is less damaging but it can alter the water's course, creating dead-end diversions and pits that have proven fatal to salmon in Washington state.
That's just one of the many problems it causes.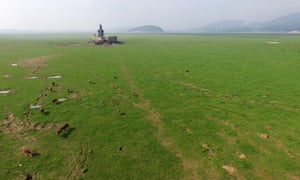 This used to be a lake, until sand miners took out so much that the level dropped and parts of the lake are now mostly dry land. Cattle graze on it now. With all the sand in places like the Sahara, you'd think the supply would be a non-issue.