Sharks don't actually kill all that many people. These critters do: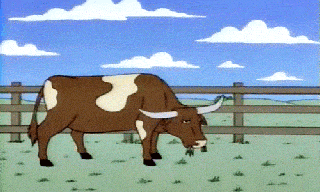 Yep, to err is human; to moo, bovine. One quick side note: farmers often insert finger-sized magnets via an esophageal pump into their cows' stomachs, and the reason for that is because the powerful magnets help to prevent hardware disease. Cattle don't chew when they're grazing; they swallow clumps of grass (and anything in the clump, like pieces of wire, nails, and whatever). That stuff all travels down to the secondary stomach, where the metals are corralled by the magnet, rather than drifting around and eventually penetrating stomach lining and organs.  Farmers can determine whether or not a cow has retained its magnet by holding a compass near it.
What cows do is burp the partially digested grass back up, which they chew as cud and then eventually reswallow. But I digress:
In the United States, the CDC estimates that about twenty-two people are killed by cows each year, and of those cow attacks, seventy-five percent were known to be deliberate attacks.
Be afraid; be very afraid. Particularly so when you're dealing with a herd of them. If you've ever seen a Western film, you know something of the panic that ensues during a stampede. But even before a stampede, cows will circle the wagons, as it were: like their relatives elsewhere, their reaction to perceived danger is to form a circle, facing outward. You don't want to be there, although some animals do:
Sheep raised with cows will run into the center of the cow-herd when faced with a threat, knowing that if things get hairy, the cows will take care of business.
I spent part of my childhood on a dairy farm, and as recently as the late 1970's lived on a beef ranch, so herding cattle comes fairly naturally to me. But I always kept an eye on them; they can be sneaky.