Careful with that sunroof, Eugene. According to the National Highway Traffic Safety Administration, there have been hundreds of cases in which the thousand-dollar options have spontaneously exploded - or simply flown off cars. Although manufacturers claim that highway impacts are to blame (projectiles, etc.), NHTSA notes "The sunroof may spontaneously shatter while the vehicle is in motion or stationary."
Class-action lawsuits against Nissan, Kia, Ford, Hyundai and Lexus are either forming or have already been filed.
So what's the problem with the sunroofs? If you guessed "interference by the federal government", step on up and pick up your prize. Manufacturers have responded to their CAFE Standards rules requiring greater fuel efficiency by using thinner materials in the glass and surrounding sunroof structures.
"The problem is that going with the thinner materials and the thinner sheet metals in the cars, you're getting more movement. So now they're more on the edge of what they used to be when things were heavier and thicker and more robust."
That means that the thinner structural support for the glass is more likely to deform and fail, which can cause the glass to shatter or eject; your windshield is heavier - basically a sandwich of plastic between two layers of glass known as laminated glass. All of the other glass in the car, including the sunroof, are single pieces of tempered glass. Much lighter.
One solution offered by a repair shop owner that would at least keep chunks of glass from raining down on you from the sunroof: install an after-market tint film. It's installed from inside, and if the glass shatters, the film will hold the pieces in place, reducing the likelihood of injury.
Or, you could just do what this guy did in Britain: an hour after picking up his new $200,000 Ferrari, he lost control and totaled it.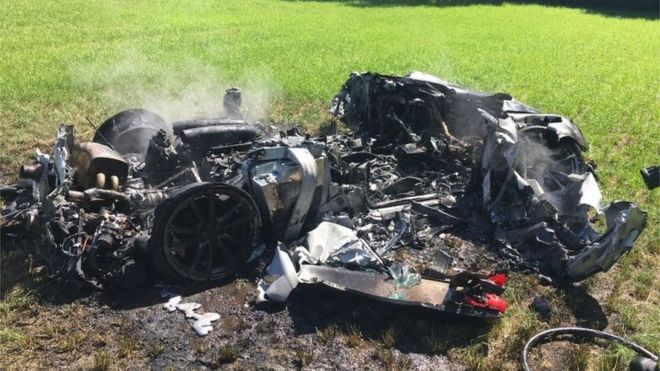 No sunroof needed. Amazingly, he walked away with just cuts and bruises.