All of those hipsters with their edgy face tattoos and their big earlobe plugs are finding that - well, dang. It ain't so cool in the real world.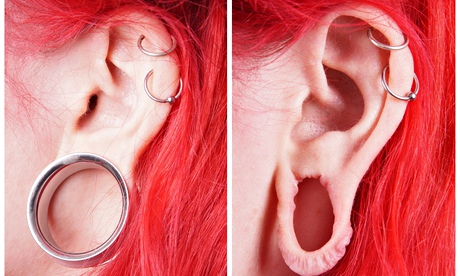 For some reason, in a tight job market, employers just aren't that into it.
After seven unsuccessful job interviews, 24-year-old Luke Clark began to think something other than his CV was playing havoc with his job prospects.
Potential employers didn't seem to like the 4cm "flesh tunnel" holes he had in each ear as much as he did.
Clark had begun stretching his lobes at university several years earlier, and the problem was that when he took the plugs out his stretched earlobes looked terrible.
Now one of the fastest-growing cosmetic procedures in the UK is repairing stretched earlobes.
Who'd have ever guessed? Welcome to Real Life, kiddies. Oh, and it's going to cost you a whole lot of money (that you don't have) to fix the damage that you've inflicted upon yourself.
If you want to proclaim your individuality, maybe you shouldn't follow the crowd.