What with 29 people injured in Manhattan last evening due to an apparent pressure-cooker bomb, the normally bustling nightlife of the Chelsea district took a grim turn. It could well have been even worse, however, as police found a second one that hadn't detonated.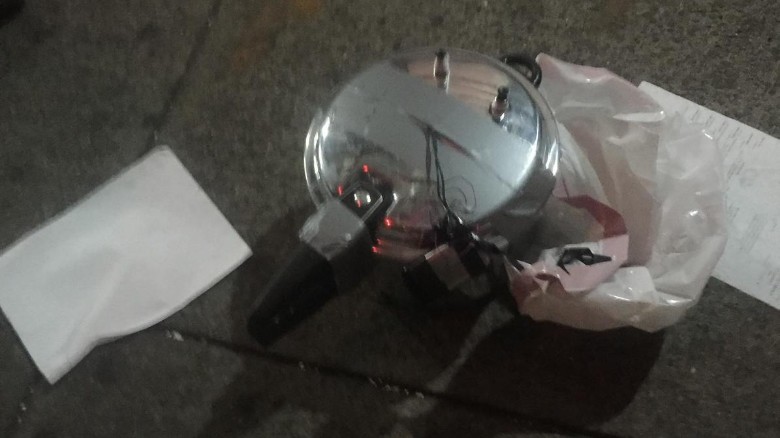 Earlier yesterday, someone detonated a pipe bomb across the river in New Jersey, but nobody was hurt and the events don't seem to be connected. But the Clinton News Network was doing their important work; both Ferret-top and Pantsuit had something to  say about the NYC bombings, but the network edited out Pantsuit's use of the term while leaving Ferret's unedited.
Well, how can anybody look at the damage in Manhattan that sent 29 people to hospitals and not conclude that yes, it was in fact a bomb? Particularly when a second device, wired to a cell phone, was found shortly afterward? Amazing.
And then there was the guy in Minnesota who ran through a shopping mall, stabbing people and yelling Aloha Marsbar, or whatever it is they yell, prior to being killed by an off-duty cop.
In a media briefing after midnight Sunday, St. Cloud police chief William Blair Anderson said an off-duty officer from another jurisdiction confronted and killed the suspect. He said the suspect — who was dressed in a private security uniform — reportedly asked at least one victim whether they were Muslim before assaulting them, and referred to Allah during the attacks.
But it's all good; last night, Barry took another opportunity to make everything all about him:
WASHINGTON –  President Barack Obama said Saturday night he will take it as a "personal insult" if the African-American community fails to turn out for the presidential election and encouraged black voters to support Democratic candidate Hillary Clinton.
There's a surprise. Not that he ever talks about himself, or anything - he's far too modest as a rule. Amusingly, Good-Time Charlie, who lives in four "rent controlled" apartments in NYC that he has had modified into one big palatial floor, seemingly has no knowledge of history. If he did, he'd know that the KKK was founded by Democratics - who also instituded the Jim Crow laws.
The dinner included warnings about a Trump presidency. Retiring Rep. Charles Rangel, D-N.Y., who was honored for his service, said of the GOP nominee, "His hatred and his bigotry has pulled the rug off and the sheet off the Republican Party so we can see it for what it is."
Way to go, Charlie. I'd have to say you're full of sheet. Because I know history.