Complaining about not having food and supplies while standing in front of pallets-full makes you look really stupid. But then, she's rabidly anti-Republican , hates Trump, is close friends with a convicted terrorist, and appears to be actively engaged in sabotaging relief efforts in San Juan in order to gain access to more television time.
Angel Perez, the mayor of Guaynabo, Puerto Rico, said the Trump administration has been fantastic in providing hurricane-relief aid, and suggested San Juan Mayor Carmen Yulin Cruz might better serve her city if she actually did her job by attending FEMA meetings. Mayor Perez echoed the sentiments of Richard Rossello, the governor of Puerto Rico, who praised President Trump for his rapid response to Puerto Rico's aid requests.
FEMA administrator Brock Long told CNN it would be nice if Mayor Carmen Yulin Cruz bothered to show up at FEMA offices and got clued in.
"What we need is for the mayor to make her way to the joint field office and get plugged into what's going on," Long said.
She's too busy grandstanding for the media, bashing Trump and claiming that "we are dying", so she has no time to work with FEMA. Even Geraldo Rivera, who hails from Puerto Rico and is on the island now, is mystified:
"San Juan Mayor says residents are 'dying,' and somehow Donald Trump is to blame," Geraldo tweeted. "I'm here. Who is dying? Where? Let me help save them."
With over 10,000 containers packed with food, water, and medical supplies sitting on the port docks, maybe the mayor should get out from in front of the cameras and send some staff out to round up some truckers. The island has received $21 billion a year from us, so why did they have third-rate infrastructure? What did they do with all the money? They don't even pay federal income taxes.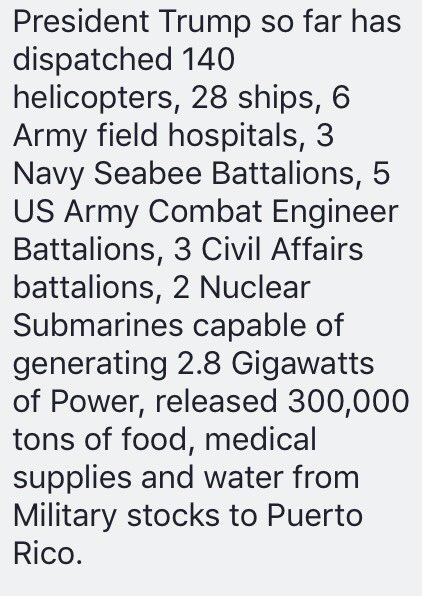 And the mayor of San Juan is still bashing him for not doing enough.
I don't exactly love the guy, but she's ridiculous.