Terry Bean, 66, a big Democrat fundraiser, was arrested and briefly jailed yesterday before bailing out. He faces a court date in Lane County for sexual abuse of a 15 year-old.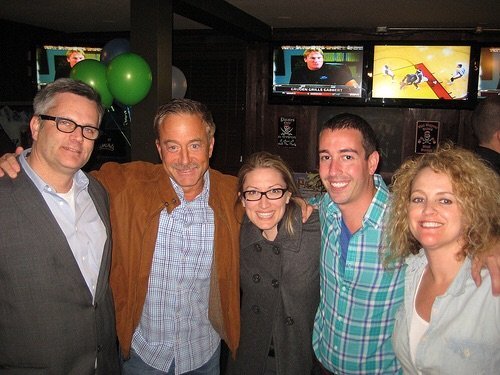 In the above photo, we see Bean standing next to former mayor Sam Adams at Adams' victory celebration following the mayoral election. Birds of a feather, one might say.
Now, the next shoe has hit: Bean's former boyfriend, now 25, has also been arrested on identical charges involving the same minor.
Ironically, these arrests come as a result of a six month-long investigation precipitated by Bean himself: the two had a falling-out, and Bean went to the Multnomah County District Attorney with a complaint that Kiah Lawson, the former boyfriend, was trying to extort money from him.
Lawson and Bean's tempestuous relationship, which included mutual restraining orders and Bean's allegation that the younger man tried to extort money from him, led a WW cover story earlier this year. As WW reported, Bean went to the Multnomah County District Attorney seeking an investigation of Lawson and his allies. But in the end, that investigation uncovered Bean and Lawson's alleged crimes.
It appears that the falling-out between the two centered upon Lawson's allegations that he had discovered a camera hidden in a smoke detector above Bean's bed, and was angered because the old guy had been recording their sexual antics.
Bean has been one of the state's biggest Democratic donors and an influential figure in gay rights circles in the state. He helped found two major national political groups, the Human Rights Campaign and the Gay and Lesbian Victory Fund, and has been a major contributor for several Democratic presidential candidates, including Barack Obama. He's also a close friend of former Gov. Barbara Roberts.
Babs never did have especially good judgement.