Yep, it's the Obummers again. Classic.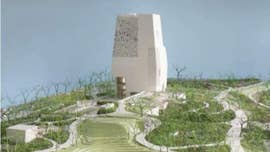 Shouldn't the monument to Barry be half-black?
When the Obama Foundation first sought to lease parts of Jackson Park three years ago for its project, it convinced the city of Chicago that it planned to construct an official library to be managed by federal officials. But after receiving the lease, Obama suddenly decided to not include his official presidential library within the center.
Local parks activists filed a lawsuit last month to block the construction of Obama's presidential center on the basis that it's a fraud. But then, it's Chicago; fraud's been part of the culture there for at least the past half-century.
The lawsuit argued that while the purpose of transferring the land was to house the official Obama presidential library, the center will not include his presidential papers, only a digital copy.
Whatever, since it's going to go up on the South Side, they'd better make sure the place is bullet-proof.