When they try to lynch the HR director. That's generally a sign that all is not well, as Air France employees made clear to Xavier Broseta earlier today.
Air France executives were forced to flee with their clothes in tatters after workers stormed a meeting at Charles de Gaulle airport in protest at 2,900 planned job cuts.
Human resources chief Xavier Broseta and Pierre Plissonnier, head of long-haul flights, scaled an eight-foot fence to escape, aided by security guards. Broseta emerged shirtless and Plissonnier had his suit ripped to shreds.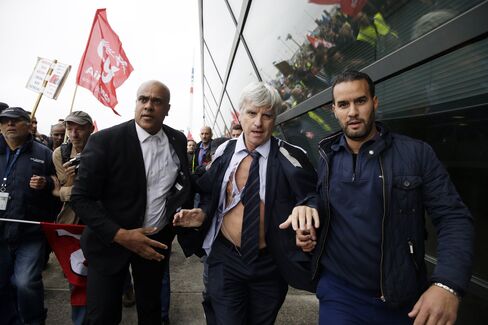 Why yes, union thugs were involved. This is a huge problem in that country, where everyone and their dogs are union members with a huge sense of entitlement. It may be hard for them to believe, but when your company's losing boatloads of money, they're going to take some steps - which in the case of Air France means killing orders for Boeing 787s and removing older Airbus jets from service, stopping services on 40 different routes, and 0h yeah - removing your job.
In a sense, one can almost understand the attitude of entitlement; the company hasn't forcibly removed people from their jobs since the early 1990s. But when their unions fail to negotiate a cost reduction plan, then hey - management's not going to have a lot of workable options apart from cutting jobs and trimming services. The air industries are no exception; if anything, it's a more brutal environment.