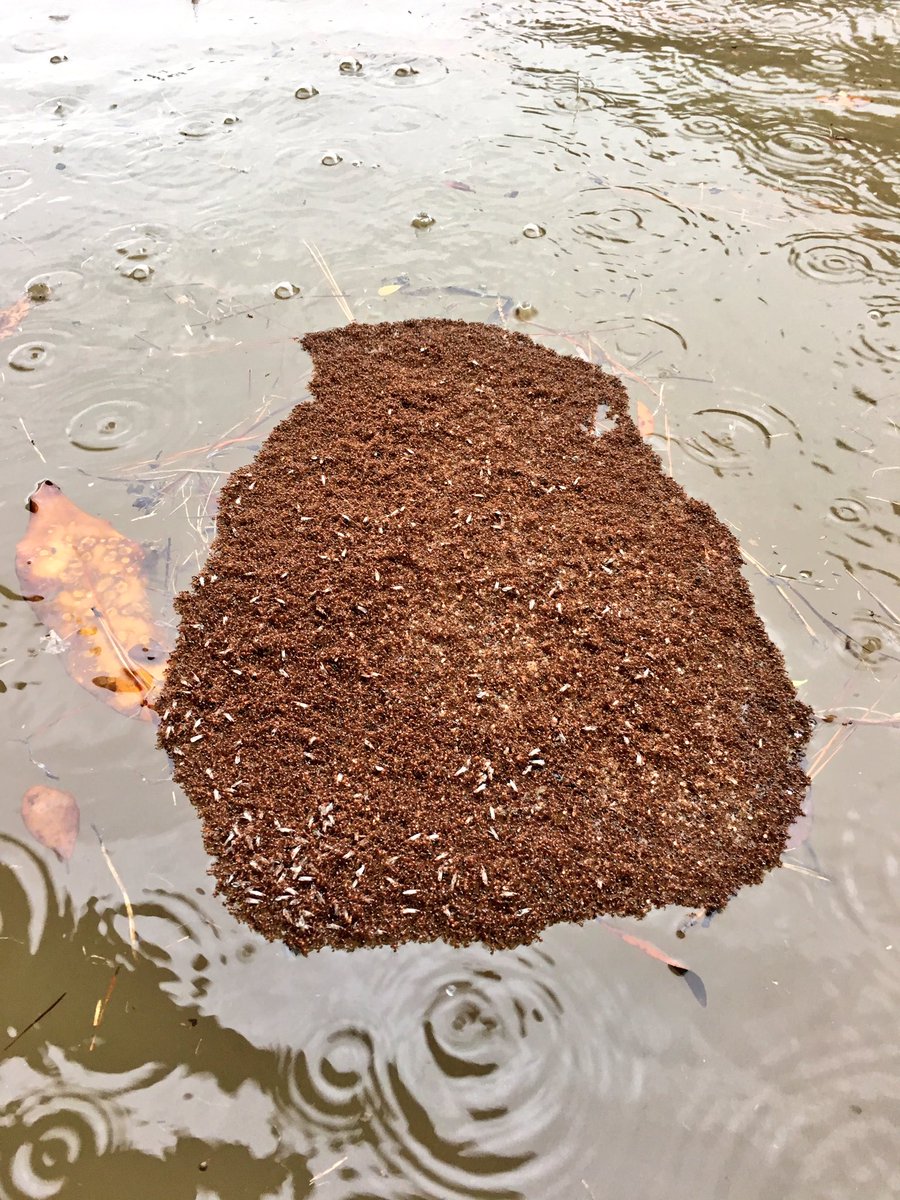 Rafts of fire ants. When flooding occurs, the entire colony - queen, eggs, pupae, the whole deal - forms a raft. The ones on the bottom climb to the top; the ones on top head to the bottom, and the process continues until they encounter something solid to which they can adhere.
"By the time water covers the mound and the tunnels are flooded, the ants have moved up and out of the nest, locking legs together and forming a floating mass of fire ants, called a raft," Dr. Robert Puckett, assistant professor and extension entomologist at Texas A&M University told the Chronicle. Experts at Texas A&M warn not to make contact with these floating ant colonies, not even with the oar of a boat because they may "climb aboard."
They're called fire ants for a reason - you don't want to get stung by them.
And they're just one of the many issues now facing residents. It's still raining. Reservoirs are about to overflow, panic is setting in.
And while the famed "Cajun Navy" is there, trying to rescue people, they're running into trouble:
HOUSTON — A rescuer for the famed Louisiana Cajun Navy says looters tried to steal their boats and fired shots at them while they were trying to save Houston residents from flooded homes.
They've had to halt some rescue attempts due to the hostile responses. And the folks they're trying to rescue aren't making things any easier:
"They're making it difficult for us to rescue them," he said. "You have people rushing the boat. Everyone wants to get in at the same time. They're panicking. Water is rising."
What with the panic, the rising waters, rafts of fire ants, and the looters, it's not a good time to be in the Houston area.
Hmm. How would Portland fare?
Short answer: not well.
Given the topography, a mass evacuation is simply "unthinkable", according to local emergency management folks.
Also given the crummy roads, one would imagine. But the EM people aren't looking at that aspect; they're looking at how you clear people out of here in the event of catastrophic flooding. And their conclusion is: you can't.
The best they can do is steer folks to temporary emergency shelters and hope for the best.
At least we don't have fire ants.