As noted yesterday, Egypt tried to kill internet access in their country, but it's not possible.  Over on another blog, whose author claimed that Egypt had killed the internet, I posted a brief comment, which was expanded upon here.  Naturally, somebody had to tell me how idiotic I am:
Max? They very effectively KILLED the internet. Just because a few people are able to get a very small small fraction of material out(56k are you kidding?)does not in any way mean its alive. Waving semaphore flags hardly meets the need for the volume that was being exchanged.
Some talking heads also poo pooed the idea that the same could be done in the US. A small look into the "Switch board" of the internet, the DNS providers, would show that just as the whole us aviation industry can be grounded in a few hours, so can the Internet, including Cell Phones. Look into what happened when somebody monkeyed with the sea cables.
Just because I can read a paragraph with my indigo watch, doesn't mean I have "lights"
Posted by dman
Well, dang.  Just my luck to run up against an expert.
Oh, but a new item that turned up in my inbox indicates that the folks over at PC World share my take on the situation.  I deliberately didn't discuss the wi-fi possibilities; preferring to note that more primitive solutions exist to route around such attempts to control the flow of information.  
Remember when you stashed your old modems in the closet because you thought you might need them some day? In the event of a total communications blackout--as we're seeing in Egypt, for example--you'll be glad you did. Older and simpler tools, like dial-up Internet or even ham radio, could still work, since these "abandoned" tech avenues aren't being policed nearly as hard.
In order to get around the total shutdown of all of the ISPs within Egypt, several international ISPs are offering dial-up access to the Internet to get protesters online, since phone service is still operational. It's slow, but it still works--the hard part is getting the access numbers without an Internet connection to find them.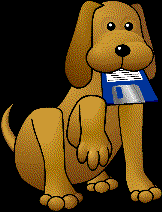 Unfortunately, such dial-up numbers can also be fairly easily shut down by the Egyptian government, so you could also try returning to FidoNet--a distributed networking system for BBSes that was popular in the 1980s. FidoNet is limited to sending only simple text messages, and it's slow, but it has two virtues: Users connect asynchronously, so the network traffic is harder to track, and any user can act as the server, which means that even if the government shuts down one number in the network, another one can quickly pop up to take its place.
The PC World folks tap into some items I had forgotten, like Fido. They also bring in the possibility of using now nearly ubiquitous wi-fi connectivity; a subject that I had considered but abandoned in favor of simplicity - the modem.  That was a bit hasty.  Folks in Egypt may well have some robust wi-fi infrastructure available, but as I don't know that, it seemed best to shoot for something that will certainly work.