SE Uplift, a coalition of 20 southeast Porkland neighborhood associations, has requested documents from Porkland Bureau of Transportation relating to their calculations regarding the upcoming Porkland Street Fund that Streetcar Charlie and Shorty Novick intend to ram through, and PBOT has not been forthcoming in their response. So yesterday, the coalition filed an appeal with the Multnomah County District Attorney's office asking that PBOT be compelled to produce the documents.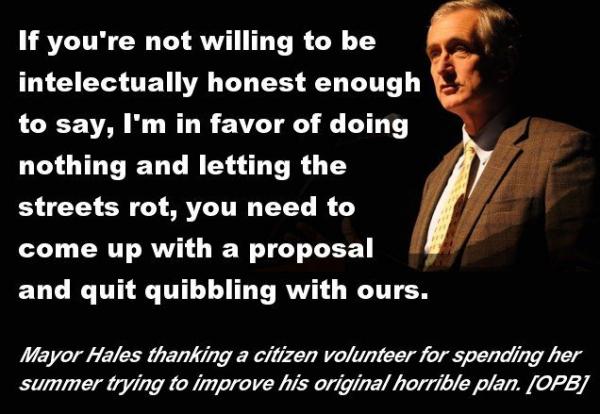 This is unheard of; a group of neighborhood associations funded by City Haul, is asking the judicial system to force PBOT - which of ccourse is also funded and managed by City Haul - to release documents to what is in effect another branch of the same city government. Streetcar and Shorty have consistently engaged in unethical, condescending, and arrogant behavior since gaining orifice, and their approach to a "street fund" is just more of the same. Less than half of any funds collected would actually go to road maintenance, which is the alleged purpose of their new tax scheme.
But given Streetcar's history of unethical conduct, it should come as no surprise: he spent half a dozen years evading taxes by living in Washington state while claiming Oregon residency for voting purposes. Like many "Oregon" politicians, Hales hails from the east coast; born in Washington D.C. and educated in Alexandria, Virginia, he transplanted his east coast sleaze here. He claims to be "a real Portland kind of guy", and given his conduct, he does appear to blend in well with the Portland political scene.
Streetcar Charlie ran for office on a claim that he'd take city government back to basics, like maintaining roads - without raising taxes or fees, by trimming the fat in other areas. Not only has he not done the latter, he's chosen to renege on the former.
In other words, he lied - and too many people fell for it. Now, business leaders and even neighborhood associations are turning against him and the schemes that he and his sidekick keep pushing. This will not end well.