She'll cut a stunning figure in her bright orange jumpsuit.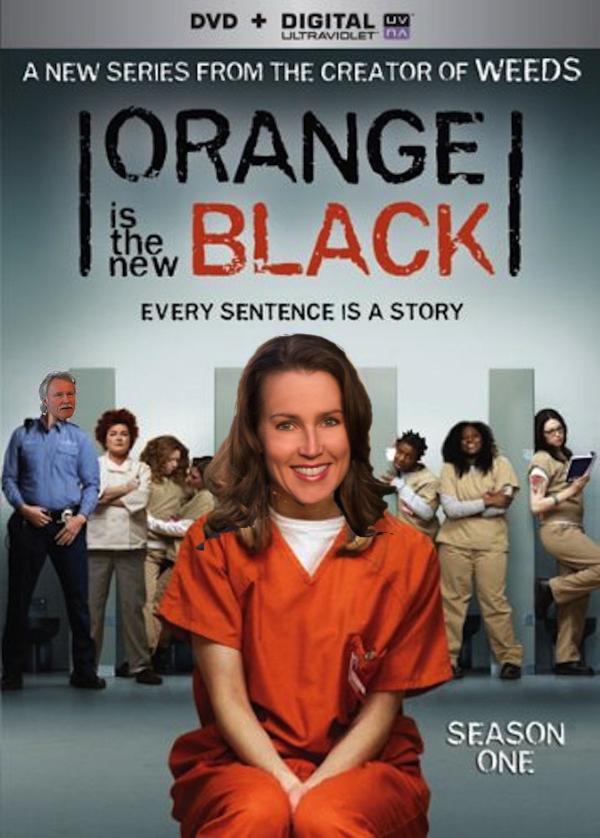 Oh boy. It appears that Oregon gov. Retread's First Squeeze has sort of dug herself even deeper: 
Oregon First Lady Cylvia Hayes has been collecting private consulting fees while serving as an adviser to Gov. John Kitzhaber—and that practice has put her under scrutiny by the state's ethics commission and has led to a criminal investigation by the FBI.
And she was paid some $118,000 by a shady organization, the "Clean Economy Development Center":
Public records also yield few details about the Clean Economy Development Center, which functioned largely under the radar of the IRS, state attorneys general and other regulators. As a nonprofit it filed just one federal tax return — in 2010, when it reported more than $900,000 in revenue. In May 2014, the IRS revoked the group's tax-exempt status due to its failure to file returns for three consecutive years.
And to return to her use of state facilities and offices for personal gain:
On April 9, 2012, a "Clean Economy dinner meeting" was scheduled at the governor's mansion, according to public records.
That appears to be a clear violation of state ethics law, to say nothing of the federal implications. Beyond that, it appears that she has now twice filed false tax returns:
In her 2012 tax return, Hayes declared only $27,361 in income—well below the $88,000 she told Borrund the Clean Economy Development Center paid her that year. 
Honesty on her tax returns is an issue that has dogged Hayes before. 
In 1997, for example, she was paid $5,000 for participating in an illegal sham marriage to a teenager from Ethiopian in order to help the young man establish immigration status. 
In a press conference in October, Hayes acknowledged that she never reported the $5,000 as income to the IRS.
So, she's filed at least two false tax returns, and she took in $118,000 from a shady "Clean Economy" organization while serving as gov. Retread's "advisor" on clean energy policy. It seems that Retread's First Squeeze is incapable of anything remotely resembling honesty. But hey - she's kind of cute, and 30 years younger than he is. And he can prescribe Viagra.