PORTLAND, Ore. -- For roughly the last two months, on average, firefighters have responded to at least one illegal burn or fire call in Portland homeless camps every day.
New numbers, obtained exclusively by KGW Friday, show Portland Fire & Rescue has been called to various homeless camps across the city 79 times since Feb. 20.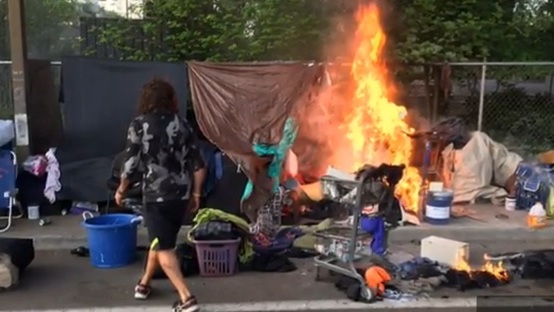 The majority seem to be related to warming or cooking fires that were intentionally set by the campers and subsequently sorta got out of control. Much like the campers themselves, which Streetcar Charlie and other "leaders" have willfully allowed to get out of control.
At least four of the fires, however, appear to be arson - one site's gone up in flames twice in two days, which some folks think might be a tad suspicious. That site, at NW 19th and Thurman, is one of the few on the west side of the Willamette River. NW is becoming increasingly "gentrified", and it could well be that someone around there doesn't want them getting too comfy on the west side.