Franklin, Ohio: A cop on patrol noticed a kid hanging around in front of a CVS store last Sunday afternoon, holding a teddy bear. There's a red flag. So the cop pulled over to find out what the kid was up to. The boy, age 7, was trying to sell his teddy bear to patrons at the store in order to get money to buy some food; he hadn't eaten in several days.
A 7-year-old Ohio boy who hadn't eaten anything for days was trying to sell his teddy bear to get money for food, police said.
Dunham said the sight of the boy peddling a teddy bear upset him so much he took him to a Subway to get something to eat right away.
Two other officers went to the Bethels' home after Dunham took the boy to the police station in the small town roughly 15 miles outside Dayton, Franklin police told the Journal-News of Butler and Warren counties.
The officers found liquor bottles, garbage and cat urine in the squalor of the Main St. house, according to a police report obtained by the newspaper.
All of the kids (there were a total of five) are now in protective custody. The parents are facing five counts of child endangerment, to which they've pled not guilty. And the "mother" is really angry and defensive; so much so that she took to the police department's Facebook page to "explain her side" of things:
Tammy Bethel went on the Franklin police Facebook page Friday to say that her house is normally clean and the CVS where police found her son is very close to her home. She said the house was dirty after her kids had friends over in recent days.
Yeah, right. It's not her fault. Her kids had friends over, and they made the mess. Good grief, she must vote Democrat.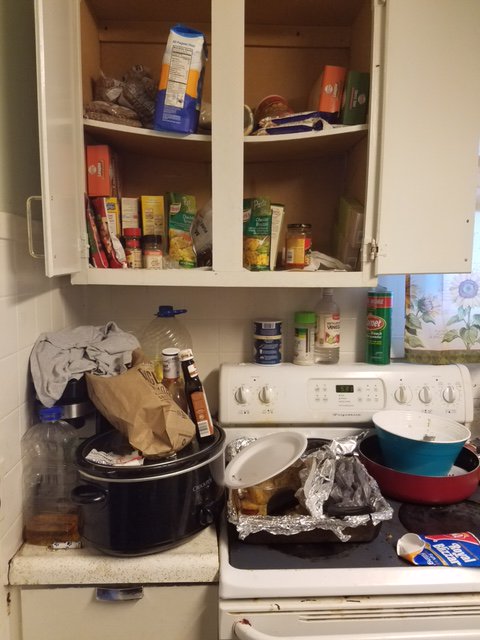 It doesn't look like the kids did this, "Mommy".
It took a long time to accomplish that level of putrefaction and general filth. What do you want to bet that she and her loving hubby aren't Section 8 renters?