You won't find it in your family album, but a tiny prehistoric creature with a bag-like body, a huge mouth and no anus has become the best candidate yet for our earliest known ancestor.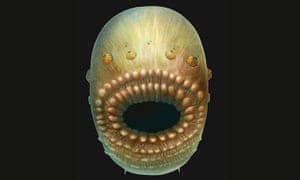 Or possibly the 44th president of the USA.
More currently:
KCBS reports (http://cbsloc.al/2kLxRfF ) Tuesday that the backhoes are waiting and the safety barriers are ready. But work on a key part of the $70 million Richmond-San Rafael Bridge's upgrade project has been put on hold.
Why? Critter, that's why - they found a hummingbird nest with an egg inside, and since hummingbirds are a protected species under the Migratory Bird Treaty, they have to wait for the bird to do its thing.