What a way to go: a 25 year-old Indonesian man failed to return from harvesting palm oil. He was eventually found - inside the belly of a 23 foot-long reticulated python.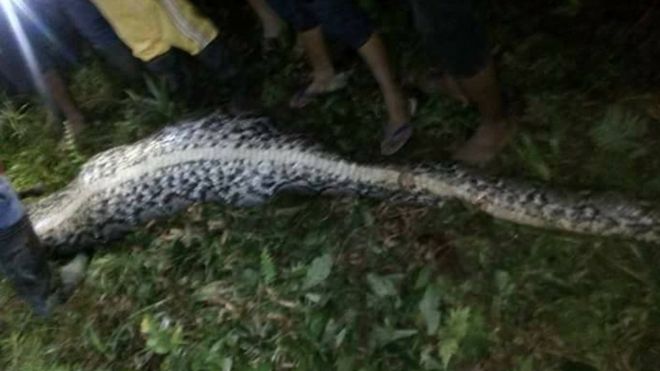 "They didn't find him (Akbar), but the villagers saw an unmoving python in the ditch. They grew suspicious that maybe the snake had Akbar. When they cut it open, Akbar was inside the snake," Mashura, who like many Indonesians goes by one name, said.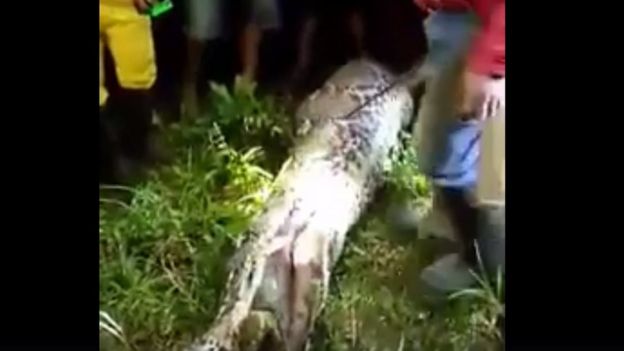 Such an occurrence is highly unusual; the reptiles generally go after wild boars or smaller mammals, although they have been known to take small children.  As a rule, they're fairly reclusive.
The police say that when the snake was captured and killed, Akbar's boots were "clearly visible" in the animal. From wounds on his back, they believe that the father of two was initially attacked from behind, as the pythons have numerous recurved teeth. Once the animal sinks its teeth in, it coils, constricts, and suffocates its prey before swallowing it head-first.
Rampant deforestation in Indonesia and conversion to palm oil plantations is removing food sources for animals, such as this python:
The incident of a large python eating a man in a West Sulawesi village has triggered new concern over "uncontrolled" deforestation across the country, which many believe to be responsible for the numerous incidents of animals attacking humans.
Rahmansyah, an agriculture lecturer from Hasanuddin University in Makassar, said the killer snake might have had its habitat disturbed by the growing human activities in the area, such as palm oil plantations that have continued to expand.
"Because the habitat is destroyed, the snake's natural food sources are also affected. Thus, the snake went out to the palm oil plantation to seek prey," he said on Wednesday.
I read labels when shopping. If a product contains palm oil - and many do - it doesn't go into the cart. It may not be much, but it's my way of fighting deforestation and habitat destruction.