The end of 2017, anyway - thankfully! So the end of the year brings us:
Two people reportedly shot dead and others wounded during riots in Iran, where, the mad Mullahs are getting a well-deserved taste of their own medicine as government buildings are torched by street mobs. The government there is claiming that "foreign agents" did the shootings while claiming hat the rioters will "pay the price" for their actions in the streets. Apparently, thousands of folks have been rioting, burning Iranian flags and buildings, and other acts of mayhem. I hadn't realized that Iran has "Antifa" chapters over there. But the Mullahs have declared that they will respond with an iron fist.
It all looks quite exciting, from a safe distance.
And on the artificial intelligence front, sex robots are evidently a thing. If that's not disturbing enough, a cybersecurity prof over in Australia says that the things can be easily hacked and reprogrammed to start killing people. Well, that's not exactly my field of expertise, though it seems plausible. But it's just one of many AI threats:
Elon Musk is convinced that it is going to kill everyone and a Google AI managed to create its own AI which was more powerful than any version a human has ever built. That loud sound you hear is my sphincter slamming shut.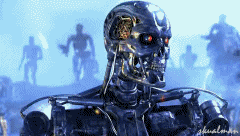 The Terminator series may not have been entirely a science fiction set of films after all. But as to the sex robots, it'd be kind of amusing to hack one and tell it to give its owner a wedgie and then take him outside....
Speaking of films, people are staying away from them in droves. Hollyweird may be trying to Save The Planet™ through indoctrination, but those films are all box-office flops. People who went through the "man-made global cooling" hysteria of the 1970s, then the "man-made global warming" hysteria, and now the "fight climate change" idiocy have had just about enough, and so the folks who have spare money aren't spending it on eco-themed movies:
"Geostorm" promised B-movie thrills with a tale of the Earth's weather run amok. Audiences typically adore disaster films — the cheesier, the better. So what happened? The movie raked in $33 million from a reported $120 million budget.
AlGore's sequel film did even worse; managing to garner $3 million - seven times less than his first scare-you-to-death film that won awards and everything. People seem curiously unwilling to pay to subject themselves to propaganda. But then, a lot of folks who go to movies do so to grab an hour or two of entertainment; something Hollyweird seems to have forgot.
Finally, you may remember the 53 year-old Florida woman who got popped with a RUII (Riding Under Influence Intoxicants) last month after she was caught riding her horse with twice the legal BAC limit in her system down there in Polk County. Yeah, well, a judge ruled last week that she can't have the horse because she's unfit to care for it. He's also requiring her to complete an addiction treatment program.
For now, the Sheriff has to retain custody of the horse, but her lawyer's going to "revisit" things next month:
Byrne's attorney, Craig Whisenhunt, says he will revisit the custody issue at a Jan. 11 hearing regarding additional pending charges of disorderly intoxication, animal endangerment and culpable negligence.
He claims she wasn't disorderly, and under Florida law is considered a pedestrian.
Theoretically, of course.
Have a safe and enjoyable New Year's Eve, and if you party too hard, don't ride your horse back home!