A 7.5 magnitude earthquake, the strongest known ever to have hit the country, struck in Papua New Guinea yesterday. At least 16 are known dead, but much of the country's infrastructure has been demolished, so accessing affected areas is difficult or impossible. Some reports indicate that hundreds may have been killed, but can't as yet be confirmed. What is known from aerial surveillance taken from an Australian C-130 is that landslides have buried a great deal.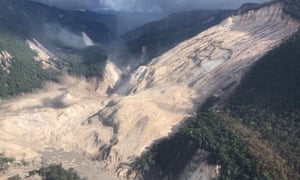 That will damage homes and injure people....
The search for survivors drags on.