Peeyush Shrivastava enrolled at Ohio State after graduating high school, but before he started classes, he and two friends founded Genetesis. They raised millions of dollars in venture capital, and developed a non-invasive 3-D scanner that can detect cardiac issues in 90 seconds; eliminating the need for invasive tests and overnight hospital stays.
A recent study in the journal JAMA Internal Medicine showed that extensive testing combined with an overnight stay can take as long as 28 hours. And the mean cost for chest pain visits is estimated to be $1,527 per patient, with a total of nearly $7 billion in direct costs for treating chest pain across all American hospitals, according to a 2015 study.
"Five years from now, we want to be known as the ER standard for ruling in or ruling out cardiac chest pain versus non-cardiac chest pain," said Shrivastava, who hails from outside Cincinnati.
Oh yeah, he dropped out of Ohio State to work on this: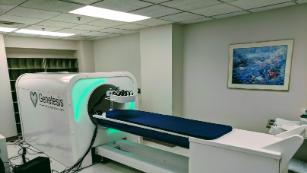 They've completed successful tests at Mayo Clinic, and it's currently undergoing study at a Detroit medical center. They're applying for FDA approval so that it can be placed into clinical use across the country.
In addition to reducing costs for medical providers and patients, and reducing length of stay for patients, it also should be safer because it could cut down on risks like hospital-acquired infections, radioactive dye and possible treadmill injury.