US government scientists have detected a weedkiller linked to cancer in an array of commonly consumed foods, emails obtained through a freedom of information request show. "I have brought wheat crackers, granola cereal and corn meal from home and there's a fair amount in all of them," FDA chemist Richard Thompson wrote to colleagues in an email last year regarding glyphosate.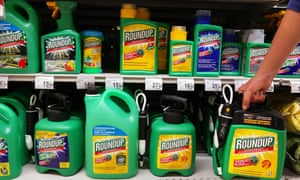 Farmers who grow corn and soybeans are big users of the stuff - in the Midwest, the space between cornrows is often planted in soy. But it's also used on wheat and oats, among other crops. Each year, farmers around the USA use some 200 million pounds of the weedkiller.
Other findings detailed in the FDA documents show that in 2016 Chamkasem found glyphosate in numerous samples of honey. Chamkasem also found glyphosate in oatmeal products. The FDA temporarily suspended testing after those findings, and Chamkasem's lab was "reassigned to other programs", the FDA documents show. The FDA has said those tests were not part of its official glyphosate residue assignment.
Monsanto is currently in litigation, fighting claims that its products cause cancer.