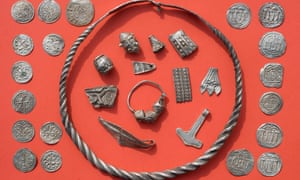 A 13 year-old kid and an amateur archaeologist were out with their metal detectors on the northern German island of Rugen and they happened across this stuff.
Braided necklaces, pearls, brooches, a Thor's hammer, rings and up to 600 chipped coins were found, including more than 100 that date back to Bluetooth's era, when he ruled over what is now Denmark, northern Germany, southern Sweden and parts of Norway.
Apart from the pearls, the loot mostly consisted of silver. So how did it end up there?
The oldest coin is a Damascus dirham dating to 714 while the most recent is a penny dating to 983.
The find suggests that the treasure may have been buried in the late 980s – also the period when Bluetooth was known to have fled to Pomerania, where he died in 987.
Bluetooth unified Denmark during his reign, and introduced Christianity to the people. Unfortunately, his son Sven ultimately led a rebellion against him, leading to his hasty departure.
Most of Pomerania is today part of Poland, although its westernmost portion - including this island - is in eastern Germany. It was there to which King Bluetooth fled.
Today, the wireless technology that allows computers and smartphones to communicate (effectively unifying the devices) is named after him.

King Bluetooth's first name was Harald; the Bluetooth symbol is composed of two merged Nordic runes, H and B. A popular implementation in vehicles today for enabling hands-free operation of cell phones when driving.