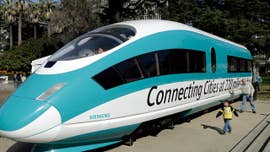 More bad news from Jerry Brown's "bullet train":
Not only is the massive high-speed rail project 11 years behind schedule and billions in the red, managers are now saying they will need to ramp up spending to hit a 2033 deadline. California's money pit cost taxpayers $3.1 million a day last year.
The California High Speed Rail Authority will have to increase its daily spending by nine times.
Supporters are already singing the "It's Too Big To Fail" song.
Oregon: An e-scooter rider in Portland (where scooters are the latest Big Thing among Portland politicians) wrecked the scooter and injured himself after colliding with a Tri-Met bus yesterday; the second such incident in less than a month.
Portland police are investigating the cause of the crash, although the cause is pretty obvious to anyone who's seen these jokers on the scooters - they don't pay attention to anything around them, they ride them wherever they want to, and they don't wear any protective gear.
The one thing that each of these riders had in common was a straight ahead focus. No awareness of their surroundings. When they veered to either direction they did not check around or behind them, just swerved in/out of moving traffic.
New Jersey:
A man's right forearm was severed after he crashed his motorcycle and was thrown over 300 feet early Thursday morning in a drag racing incident in Toms River and his limb has still not been found, police said. His motorcycle was found over 760 feet from where the crash occurred.
Ronald Vanarsdale, 36, of Toms River, survived the crash after Toms River Police Sgt. Ed Mooney applied a tourniquet where the arm was lost just below his right bicep and was able stop the bleeding, a release from the department said.
Darwin machines.
36 years old and out drag racing at 12:30 a.m.? What a winner!