Your tax dollars at work:
An Interior Department watchdog recommended the U.S. Geological Survey ratchet up internet security protocols after discovering its networks had been infected with malware from pornography sites. The agency's inspector general traced the malicious software to a single unnamed USGS employee, who reportedly used a government-issued computer to visit some 9,000 adult video sites, according to a report published Oct. 17.
Many of the prohibited pages were linked to Russian websites containing malware, which was ultimately downloaded to the employee's computer and used to infiltrate USGS networks, auditors found.
I was surprised to find that the feds didn't promote the guy.
"How was your day, dear?" "Hard."
Aaand:
As mentioned here yesterday, gab.com has been getting some serious blowback since it became known that the fruitcake who killed a lot of people at their place of worship was in fact a regular on the website. PayPal and Stripe have cancelled their agreements to provide financial services to the site, and now the domain registrar, GoDaddy, has given them 24 hours to find another provider. The website is presently offline, and the people behind the site are none too pleased: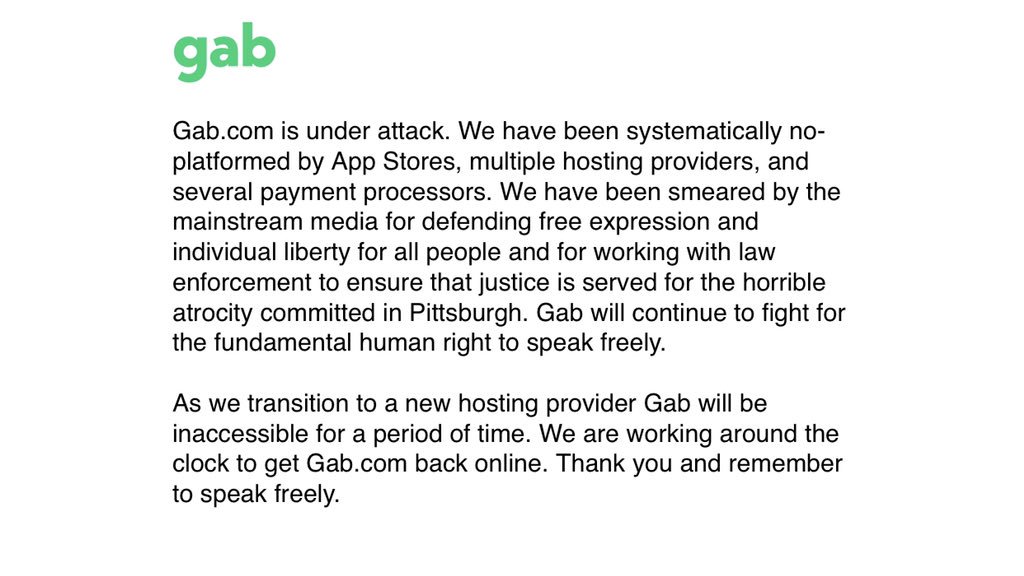 Yeah, they're all about the First Amendment. They catered to jerks and bigots. Now they're scrambling around and blaming others.