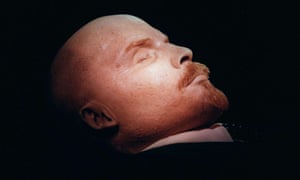 He lies in a glass sarcophagus, his reddish moustache trimmed and his hands resting on his thighs. Dressed in an austere black suit, Vladimir Lenin, the first Soviet leader, looks at first to be a waxwork.
Yet this is in fact the preserved body of a man who died 92 years ago. If carefully monitored and re-embalmed regularly, scientists believe he can last in this state for centuries more.
Currently, they spend nearly $200,000 a year to maintain his corpse. Their "Lenin Lab" people check on the body every few days, and every 18 months, they pull it out and take it downstairs to re-embalm and clean the corpse.
Preservation may be expensive and time-consuming, but it can be done: Here in America, Pantsuit still appears to walk and talk to some extent.
Interestingly, his final wish was ignored:
Lenin's own wish on his deathbed was for a private funeral, and to be buried near his mother Maria Alexandrovna Ulyanova (died 1916) in the Literatorskie Mostki cemetery in St. Petersburg.
Instead, he's on display.