About 10 million to 11 million women in the world have breast implants, according to the American Society of Plastic Surgeons and the Plastic Surgeon Foundation.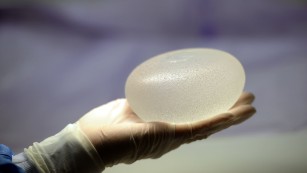 It's not enough to spend tons of money on makeup and stuff, they actually spend tons more cash to have these things stuffed into their teats. Why they do these things remains a mystery, but they do it.
At least 457 women in the United States have so far been diagnosed with anaplastic large cell lymphoma, the Food and Drug Administration said in a statement Wednesday. Of those, nine have died as a result of the rare cancer, which affects cells in the immune system and can be found around the breast implant.
Well, there might be something to explain all of the nonsense, and it's found in a Canadian obituary:
"I finally have the smoking-hot body I have always wanted … having been cremated," the obituary reads.
She must have been a hoot around the dinner table.