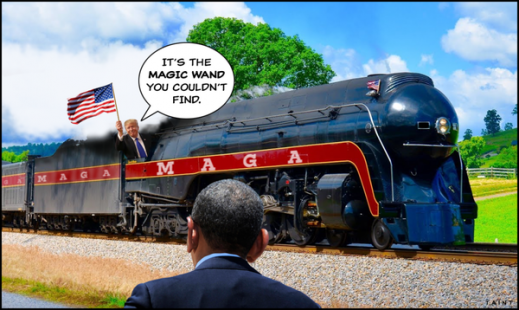 They said it couldn't be done. Well, Barack Obama did, anyway: "What magic wand do you have?"
The economy added 263,000 new jobs in April, driving unemployment to 3.6%, the lowest since 1969. Unemployment has now been below 4% for more than a year, something the Obama administration didn't even attempt to achieve.
And Barry's been absolutely beside himself. He may not have cared much for Pantsuit, but he absolutely loathed Trump:
Obama struggled with what the American people had done and thought to himself that they 'simply could not have decided to replace him with a buffoonish showman whose calling cards had been repeated bankruptcies, serial marriages and racist dog whistles'.
Well, for eight long years, Barry was the Racist-in-Chief. And that was about his only accomplishment in orifice. Although there was the Mexican gun-running operation....
Let me be clear: Barry took the election result as a "personal insult" - and I couldn't be happier. I took his years in orifice as a personal insult. Payback!