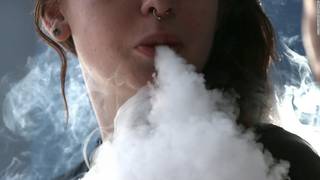 Overdue.
In a move to crack down on e-cigarette use among youth, the FDA on Monday issued a warning letter to leading e-cigarette maker Juul for marketing its product as a safer alternative to cigarettes.
The FDA states in the warning letter that Juul has marketed its products as "modified risk tobacco products" without an appropriate FDA order in effect.
The Trump administration is finalizing a ban on flavored e-cigarettes after the outbreak of a vaping-related illness that's sickened 450 people and resulted in at least six deaths.
"We can't allow people to get sick and we can't have our youth be so affected," President Donald Trump said during an Oval Office meeting with Health and Human Services Secretary Alex Azar and acting FDA Commissioner Ned Sharpless. "People are dying from vaping, so we're looking at it very closely."
Inside the Trump administration, health officials have for months expressed concerns about the spread of e-cigarette use — and raised alarms about companies' marketing claims and product safety well before reports of vaping-related illness first made waves last month.
Vaping industry groups were quick to condemn the administration's move. The Vapor Technology Association said there was no indication that its members products were to blame for recent cases of lung illness, adding that flavored vaping products have been shown to be one of the most effective smoking cessation tools
"Barring flavors would be a public health travesty," the group said in a statement.