(CNN)A brewing storm system is posing a new threat to the northern islands of the Bahamas hit hard by Hurricane Dorian, and meteorologists say it could likely become a tropical storm over the weekend.
It's "not the best news for an area that's already been hardest hit by Hurricane Dorian, with heavy rain and very strong winds," CNN meteorologist Derek Van Dam said early Thursday, referring to the Category 5 monster that less than two weeks ago slammed the archipelago nation.
It is possible that parts of Florida that braced for Dorian and received little more than a few high gusts could experience worse weather this weekend, CNN meteorologist Gene Norman said.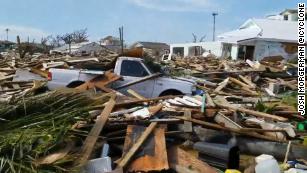 And there's no way out, as shelters are full and are now turning people away.

As if things weren't bad enough already....