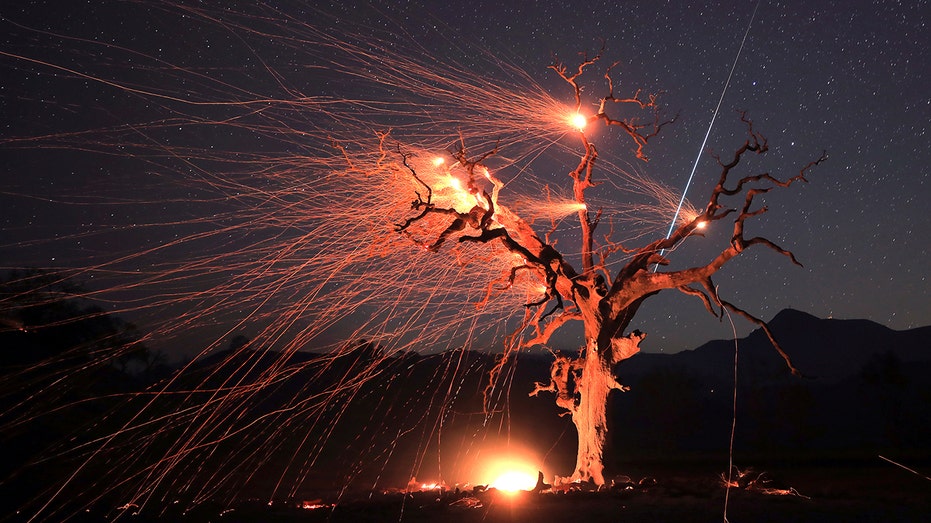 A meteor streaks across the sky as gusty winds create an ember cast on a valley oak tree burned by the Kincade fire, early Wednesday morning, Oct. 30, 2019, in Knights Valley east of Healdsburg, Calif.
California's Great Blackout of 2019 has begun as the lights keep going out for millions across the state's northern stretches. What should be the past now seems to be the future.
Welcome to the land of rolling blackouts. It's going to be that way for years to come:
PG&E might have provided the spark that started the Camp Fire, but government supplies the fuel for forest fires that turn into raging wildfires, burning everything in their path. Federal environmental policy, driven by activists, has "continuously thwarted" the use of "scientific management techniques — including logging, prescribed burns, and thinning — to treat forest fuel loads" in preventing fires, says Hoover Institution researcher Terry Anderson. The eco-groups would rather "let nature take her course."
And so she is; there are some 150 million dead trees in the state, so there's a lot of fuel. And the state's ostensible governor, "Pretty Boy Newsom", is adamantly opposed to restrictions on building in fire-prone areas, citing the historical precedent established by the rugged early settlers. "Pretty Boy", by the way, is Nanny Pelosi's brother in-law - which should tell you something right there.
The first two blackouts alone could cost the state's economy $3 billion, says a Stanford professor, as business and commerce have had to take forced holidays. Students have missed school. Virtue-signalers have had to park their dead electric vehicles. It's been weeks of people stumbling around in dark homes, few daring to open their refrigerators for fear of spoiling the groceries. Dining by candlelight has been by necessity, not in hope of romance. And only for those who have gas ovens (which have been outlawed in several California cities) and kept manual can openers in their kitchen drawers.
Those folks really should move underground; fires burn up, not down.
In any case, the costs for the Little People are massive:
With no electricity for the fourth straight day, chef and caterer Jane Sykes realized she would have to throw out $1,000 worth of food, including trays of brownies, cupcakes and puff pastry. She also had little hope of getting a good night's sleep — there was no way to run the machine she relies on to counter her apnea.
Across Northern California, people who weren't facing another day as fire refugees were worried about charging cellphones and electric vehicles, finding gasoline and cash, staying warm and keeping their food from spoiling. Some ended up at centers set up by PG&E where people could go to power their electronics and get free water, snacks, flashlights and solar lanterns.
To the last conservative to leave California,
Please conserve energy and turn off the lights on the way out.....
Oh wait!
Nevermind...