TROUTDALE, Ore. —
Authorities say a teenage boy was hit by a train as he was taking his senior photos.
The Multnomah County Sheriff's Office says deputies were called out to the tracks the Union Pacific train was on near the Columbia River Highway in Troutdale around 6 p.m. Saturday.
KOIN reports the 17-year-old student was declared dead at the scene.
Freight trains on that stretch of track usually take about one mile to stop. It's unclear why the kid was unable to avoid the oncoming train. One hopes that the photos came out well.
And on Monday in Mexico:
(CNN)Nine members of a Mormon community were killed on the Mexican side of the US-Mexico border, and authorities are investigating whether the attack was the result of mistaken identity.
The slain victims include three women, four small children and two infants, family member Alex LeBaron said from Mexico. He said all nine were dual US-Mexican citizens. The victims were "all shot while in vehicles while driving," LeBaron told CNN. Several children survived the attack.
Investigators believe three vehicles traveling between the Mexican states of Sonora and Chihuahua were ambushed by criminal groups Monday evening, Mexican authorities said.
"Women and children were massacred, burned alive," LeBaron said. "Mothers were screaming for the fire to stop."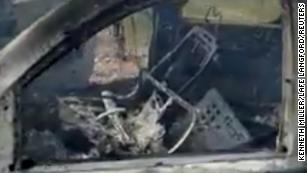 Last year, Mexico witnessed its highest number of homicides -- 33,000. And 2019 is on course to break that record. Yet another reason to stay out of Mexico....