Have you heard that a six-block section of Seattle has become an anarchist "capitol hill autonomous zone," or "CHAZ" for short? They put up makeshift signs saying, "You are now leaving the U.S.A."
And they welcomed "homeless" folks into their six-block long camp. This is where the teensy little problem comes in: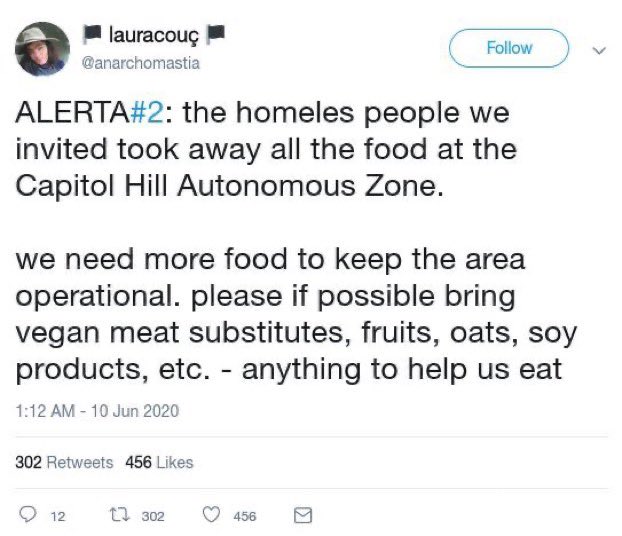 Now that's amusing! What the heck did they believe would happen? Of course the bums stole all their food!
Adding insult to injury, somebody removed the city-owned barricades  that the "activists" stole to create their utopia - so now in addition to begging for food, they're begging for lumber donations as well:
Compañerxs! It's been reported to us that pigs just took the barricades at the autonomous zone. People need barricade materials ASAP to keep the zone safe. Requesting:
60 or more 94 inch long boards that are 2.5 x 3.5 inches.
Again, these are needed to build and protect the barricades around the zone! #SeattleAutonomousZone
And of course, they're very specific: the food must be vegan and soy (I'd donate some leftover bologna and maybe some white bread that have been lying around in the fridge and pantry for a while). The lumber must meet their specifications as well. At the rate they're going, these "anarchists" might last another few days before they give up and go back where they came from.
Have these clowns any idea of lumber prices at present?
Doubtful. But somebody's supposed to give them "free stuff" so that they can carry on with their charade.
But then, they're mostly in their late teens, so their brains haven't yet developed.