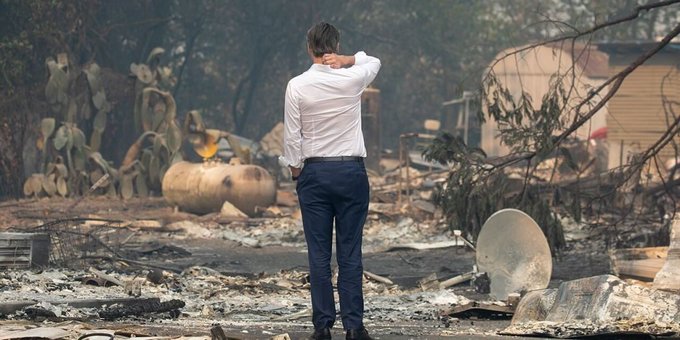 I stepped out on the deck a bit ago, and could see the sun - sort of - it's an orange orb in the smoke. So far here in Oregon, there are seven confirmed dead people and around 60 people missing. They expect to find more dead people when they get a chance to begin going through the rubble of torched homes.
A top state official acknowledged Friday that Oregon is preparing for a "mass fatality incident."
And while many of the fires were due to the 48 hours of high winds earlier this week - blowing trees into power lines and so forth - some of them appear to have been deliberate. There's always people eager to add to the misery of others, unfortunately:
A Southern Oregon man is accused of arson in connection with a fire that has caused major damage to several towns in Jackson County.
Michael Jarrod Bakkela, 41, has arrested on two counts of arson, 15 counts of criminal mischief and 14 counts of reckless endangerment.
The fire Bakkela set is considered to be one of two origins of the Almeda fire, said Oregon State Fire Marshal's office spokesman Rich Tyler. The two fires quickly merged, Tyler said.
Bakkela was arrested and initially lodged in the Jackson County Jail on Tuesday on a charge of possession of methamphetamine. He remains in jail on the arson and criminal mischief charges.
Witnesses saw the freak start the fire behind their house, from which they subsequently had to flee. It's rumored that police are looking into other cases of what appear to have been deliberately caused.