Over the summer, the co-owner of Taste of Sicily — an Italian restaurant in Palmyra, Pennsylvania — made headlines when he defied left-wing Gov. Tom Wolf's COVID-19 shutdown mandates and scoffed at the $10,000 in fines that came along with them.
"Some rob you with a gun, while others rob you with a pen," co-owner Mike Mangano declared to PennLive at the time, referring to Wolf. "We ain't paying crap." "There's absolutely no fear here. We're going to continue to come to work, and the governor ain't going to do anything about it." 
Taste of Sicily took the matter up in court — and won. Judge Carl Garvey ruled the family business was unconstitutionally cited and the restaurant was found not guilty, the station said, adding that Winter noted Taste of Sicily's owners won't have to pay any fines, and they're waiting for a hearing date against the Department of Agriculture.
Unsurprisingly, the governor says he plans to appeal the decision.
Of course, the governor's using tax dollars to pursue his vendetta, while the restaurant owners are using their own money.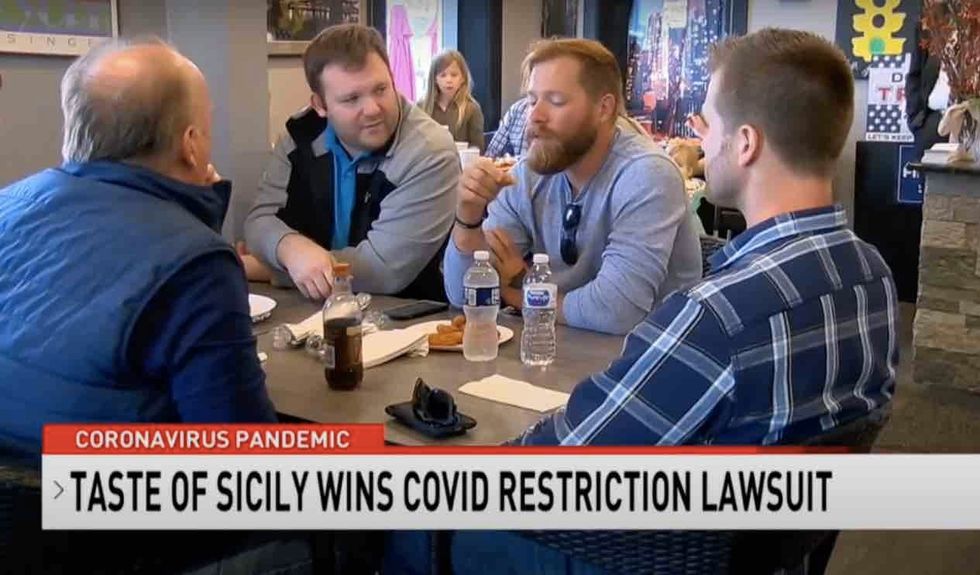 The joint had been shut down for quite a while; owners and employees - unlike the governor - actually had to earn a living, and so they re-opened. Good for them! It's past time that ordinary people were able to tell the politicians to take a hike.